Italy, the civilized cradle of the world, where everything is developed to the pinnacle of both technology and art.
Ice cream, a common dessert for the vast majority of us, but for Italians, artisanal ice cream called Gelato is an iconic product, a national heritage, the "National Soul Society" that makes everyone want to visit Italy and try the Italian Gelato once in a lifetime.
Handmade ice cream or Gelato (in Italian) is a completely different product from the usual ice cream we are used to seeing. Gelato is not only a dessert, but it is also considered a complete dish created from the highest quality ingredients, the freshest, the most balanced and complete nutritional ratio. Besides, Gelato is also created from the most advanced technologies, so that the product is not only nutritious, but also delicious, harmonious and different.
To ensure the originality of Gelato, at TIM CORP we offer our partners an "all-Italian solution", a combination of modern Gelato machines from Iceteam1927-Cattabriga and high-class Martini ingredients. A solution to ensure the absolute taste of the famous Italian Gelato line.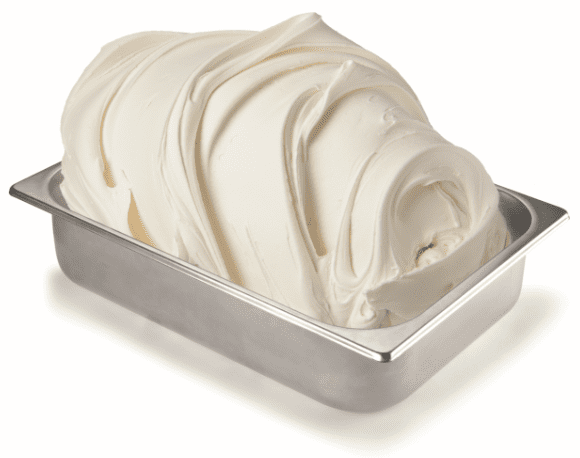 • The gelato base is the heart and essential structure of artisan gelato.
• It helps a good structure and extends the shelf life of our product.
• The gelato base is a fundamental element in modern gelato production that helps
achieve a high-quality product.
Functions of a base:
✓ Extend the shelf life of gelato.
✓ Consistent quality assurance
✓ Make sure the cream is well mixed and well balanced
✓ Make Gelato- Sorbetto production easier
Gelato Base offers:
✓ AI70AE – Biancolatte 50 S.A: Base powder for a stable creamy texture with a consistently high-quality product
✓ AI70YS- Gold base 50 S.A : Base powder for a stable creamy texture with a consistently high-quality product
Format: 2 kg/bag. Carton: 2 kg x 6.
Sorbetto Base: All fruit base powders can be used for both hot and cold processes.
However, fruit-based sorbets are usually made by the cold process and very rarely by the hot process.
✓ AI70XJ- Frutta 50 : Sorbetto base powder helps to create a characteristic texture for fruit creams.
Format: 2 kg/bag. Carton: 2 kg x 6.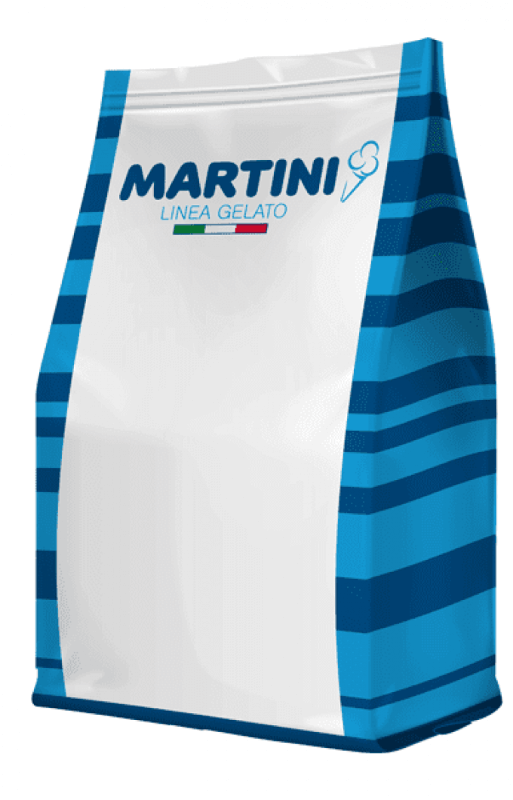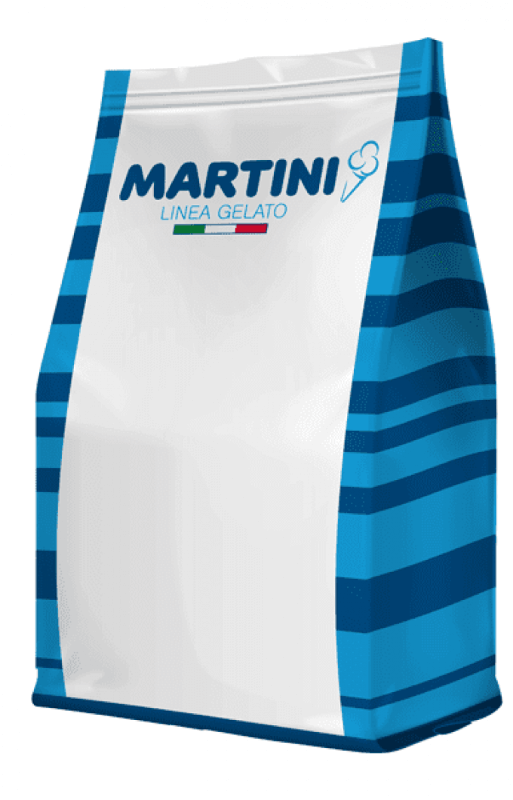 Martini improvers are products that have the function of improving the structure of the gelato,
in order to enhance its characteristics of creaminess, scoop ability and sealing in the display case.
• Improvers offers:
✓ AI70XB- Cremoso: Mix of plant-based sugars and proteins to improve the hold and ease of
scooping of the ice cream on display and for a better overrun.
✓ AI70AB- Più Soft: Recommended for all recipes, especially for fruit flavors, to slow down
dripping and improve the structure of the gelato.
Traditional flavor mixes are high quality jams added to a gelato base for a consistent and authentic taste.
All mixed jams come in liquid form, some are more concentrated. The amount used varies depending on the type.
Traditional mixed jam can be divided into 2 types:
High-fat mixed jam: Usually these jams are made from dried fruits and nuts. (such as pistachios, peanuts, almonds…) concentrated, very high quality and the dosage used is usually high from 100g/kg to 120g/kg)
Mixed jams rich in sugar: Like biscuits, tiramisu, coffee, panna cotta, gum. Have a lower dosage (from 30g/kg to 70g/kg)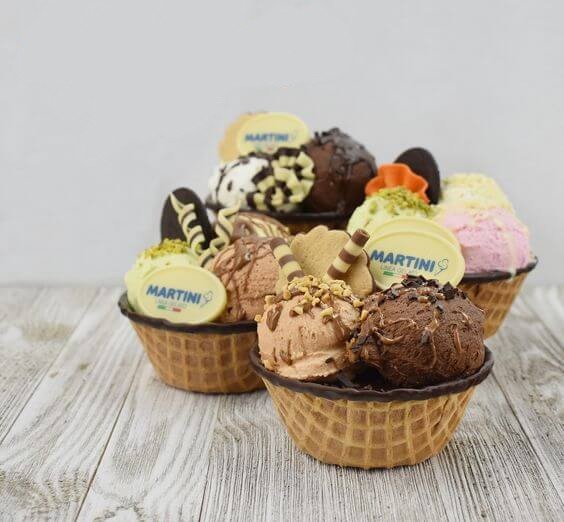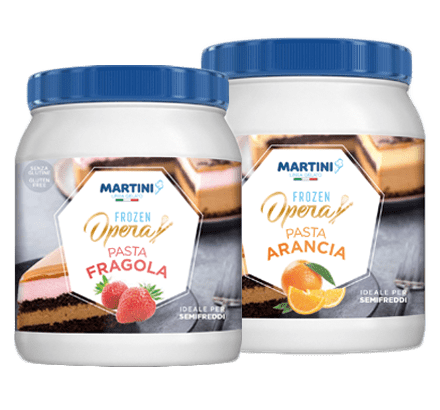 As part of Martini's product line, an extremely concentrated fruit blend.
Can be used to make sorbetto (water-based ice cream flavor) but can also be used to make fruit gelato (milk-based cream flavor).
There are some fruits, used with water or milk also bring very good fruit taste such as Strawberry, Peach, Berry, Mango and Cantaloupe.
The dosage of Paste line is about 50 g per kg of foundation solution.
This is a special line of ingredients with diverse applications in Gelato such as direct mixing into ice cream, topping, cone coating, soft ice cream, milkshake, praline… especially the unique multi-layer gelato.
To add more difference, Brunelle Crok with solid ingredients such as biscuits, small breads, cereals will help create special structure for ice cream & increase appetite when chewing.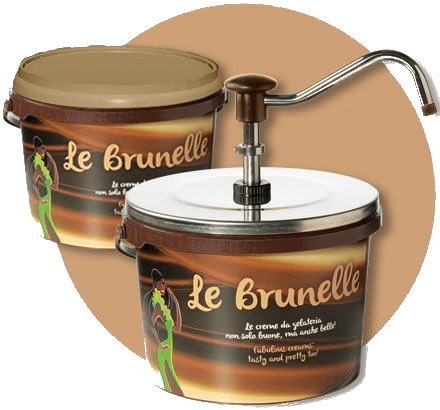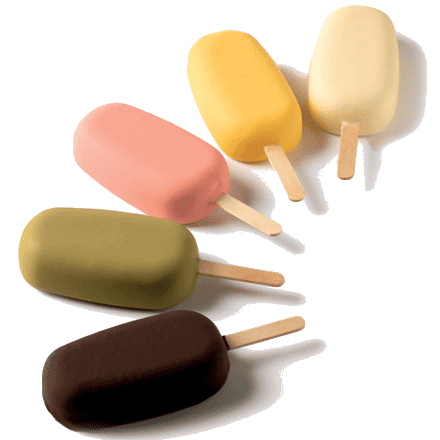 Stracciatella coating is a product line specifically designed for coating/covering in creams. The product has a liquid state at a temperature of above 26º C and turns to a solid state when exposed to cold temperatures, so it is very suitable for use as a coating on Gelato/ice cream products. Products with many different flavors/colors from dark chocolate, white, fruit… are very convenient for decoration, increasing the attractiveness of ice cream.
You can download Gelato Ingredients E-catalogue from us for more information