In 1927, after years of hard work, Otello Cattabriga created the world's first automatic Gelato machine. He became a typical model of the ice cream industry and the world industry today.
The CATTABRIGA brand is known here for its Italian Gelato making equipment. Since then, CATTABRIGA and ICETEAM 1927 have always launched top-quality machines for the Gelato industry, and that is also the source of great technological developments as well as one of the most advanced technologies. The world's leading company, specializing in manufacturing and supplying the world's largest gelato and soft ice cream machine.
In addition, ICETEAM 1927 is also a member of Ali Group, a global corporation in food and catering services.
ARTISANAL ICE CREAM EQUIPMENTS
Ice Cream Machine + Display Storage
The "3 in 1" ice cream machine series integrates 3 functions: making gelato, displaying and preserving. Great for Gelato startups or complements ice cream cafes/cakes/restaurants…
With outstanding advantages, gelato can be preserved immediately after making it into ice cream.
Cheaper price and easier operation
Cubo2 is an effective solution to diversify the menu for the restaurant and be creative with ice cream on waffles, ice cream bread, ice cream coffee…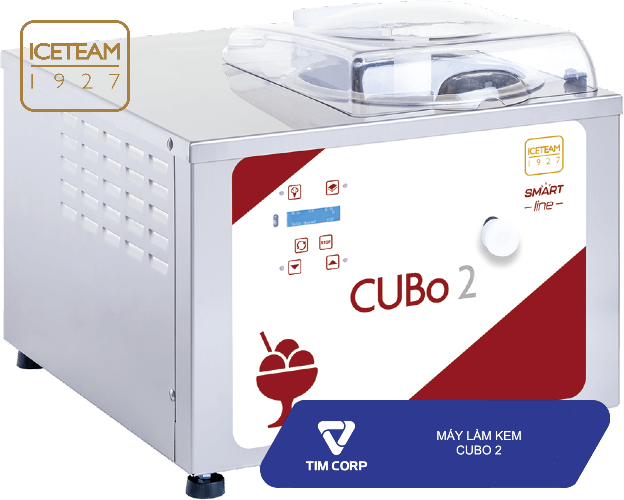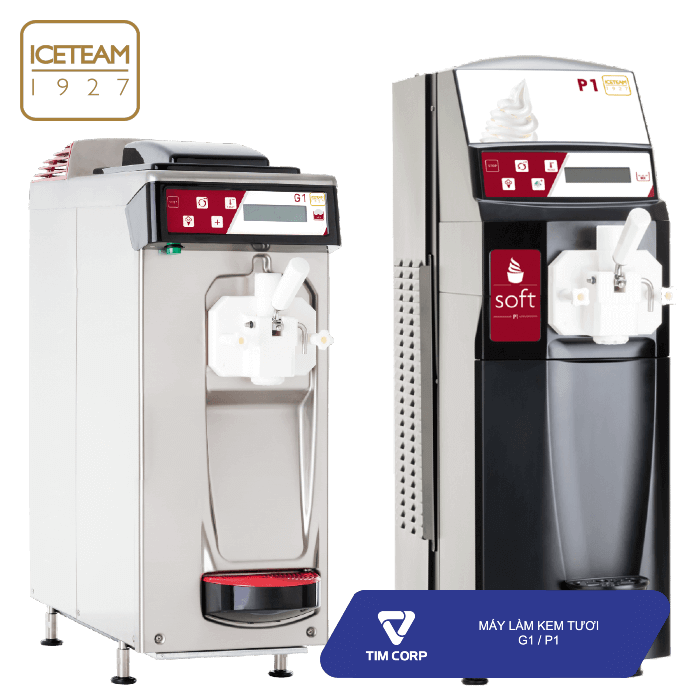 Soft gelato/ice cream model G1/ P1
Super speed ice cream production time: 12-15 minutes for 1 batch of fresh ice cream
Making 240 ice cream cones per hour (100ml/cone)
There is a smart Ice cream making system & Ice cream making function
Friendly, modern LED Panel
Exquisite design, eye-catching, diverse designs
Wide range of ice cream products
Desktop pasteurized ice cream machine
COMPACTA 4: is the best-selling combination Gelato ice cream maker, allowing you to create quality Italian Gelato beyond the limit.
The cooling and exhaust system in the upper part of the machine saves display space.
Since two cylinders can be operated simultaneously, while the first Gelato is in the machine, the second can go to the sterilization stage; This means you can make all the gelatos you want and in sequence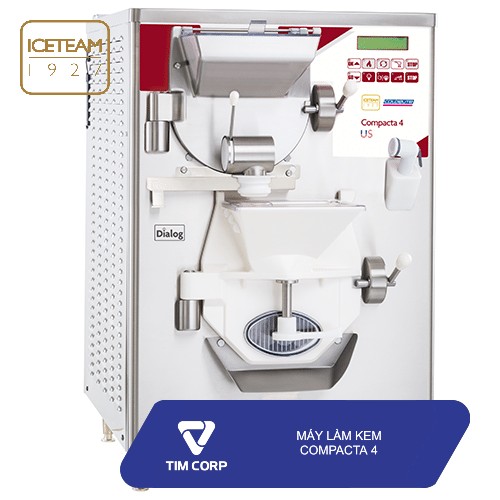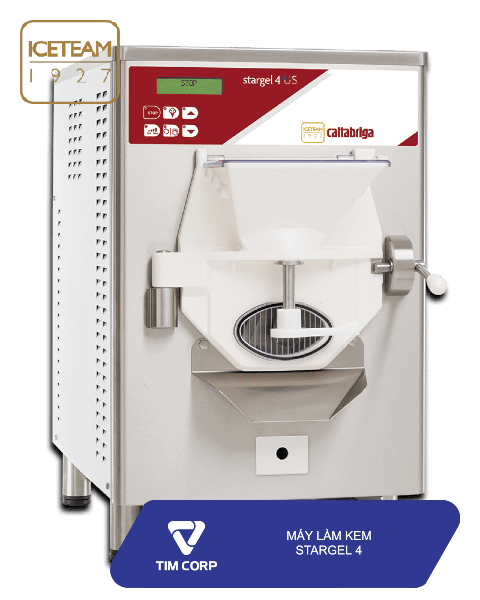 Desktop ice cream machine
STARGEL 4: The best-selling automatic ice cream machine today
Produces large quantities of gelato ice cream extremely quickly. From 10-12 minutes/batch
One-piece knife set, durable, efficient and convenient
Easy to use electronic board
Unique convenient outlet, with safety lock
Flexibility: the machine can take care of batch production with minimum or maximum quantity automatically
Ensure food safety
The cooling mode is controlled based on the amount and type of solution
Quick and flexible cleaning
Products with high durability, quality assurance for your business
Combo Combining pasteurization
Model: 8/10/12/16
The VariO machine system continuously controls the consistency of the gelato, where the compressor dynamically changes according to the amount of mixture and ingredients.
The system has a total of 11 pre-installed programs and 6 custom programs. You have the flexibility to customize, store procedures in memory, and change the spin speed of the beater.
Compacta Vario is a 2-in-1 device; with the upper part being a horizontal cylinder mixing pasteurized gelato mixture and the lower part being the second horizontal cylinder producing gelato. The Compacta Vario series ensures always creating gelato with a smooth texture, perfect rich and delicate blends, at maximum production and with minimal energy consumption.
The whole process of making Gelato encapsulated in one machine!
This is an all-in-one device that covers the entire manual gelato production process. Includes: Upper cylinder (sterilizing cylinder): The material will be fed into the hopper of the top cylinder. The high-speed mixer helps the dry ingredients in the mixture to be completely dispersed.
The lower cylinder is used to produce gelato, sorberto, slush products.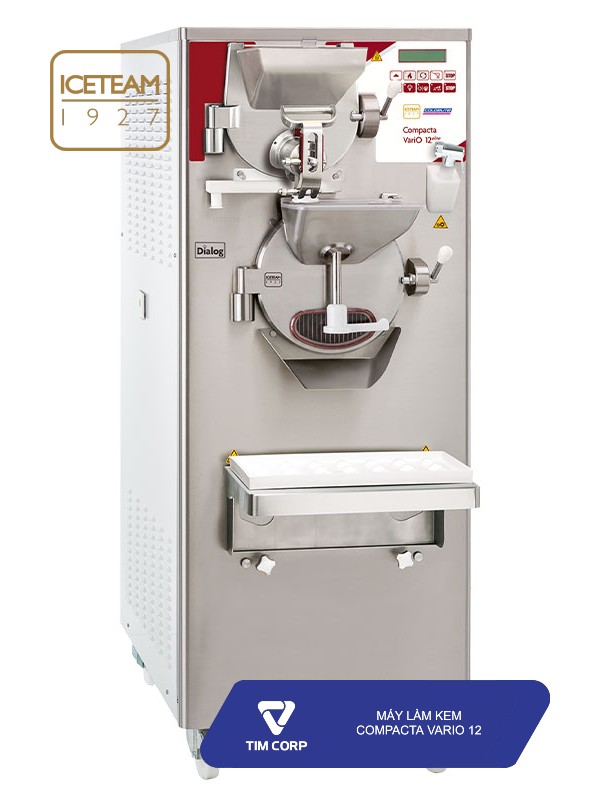 Customizable batch mode.
Reduce power consumption.
Reduce water consumption.
Smooth operation, no noise.
Reduced impact on the environment.
Minimum charge reduction.
Simple to operate, efficient and durable.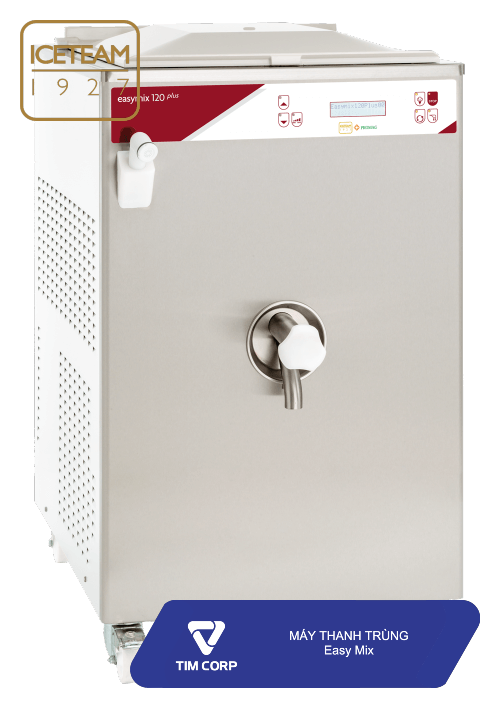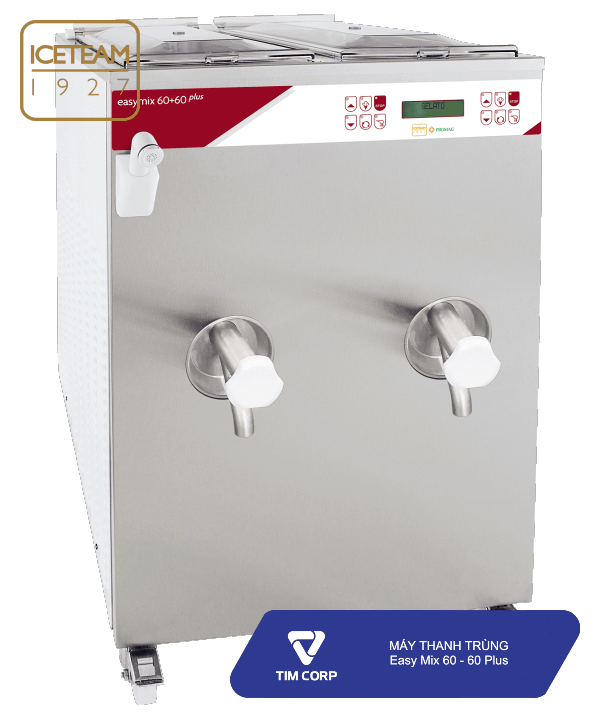 Outstanding advantages:
The model of 2 bins running continuously has lower consumption than 2 machines working independently.
LCD display with choice of 3 sterilization programs
Completely stainless steel
Integrated water filtration system
Flow rate is adjustable for precise mixing
The models are equipped with all protection systems to avoid errors of the machine operating system
All components in contact with the mixture are removable for easy cleaning
SPECIFICATIONS EasyMix 60
SPECIFICATIONS EasyMix 60 - 60 Plus
The PSK 185 Pro sterilizer is Cattabriga's new large size sterilizer, equipped with high technology and easy to use. Low energy consumption and high productivity in a very short time. Thanks to the three-stage dual heating system, electricity consumption is reduced.
Standout features:
Emulsifying unit: Ensures the mixture is completely homogeneous, very easy to remove and clean
New lid: The lid is designed to be easily removed from each other
Barrier: Made of stainless steel, safe and removable
New Faucet: Adjustable piston, equipped with Chef handle, easy to clean
SPECIFICATION of PSK 185 PRO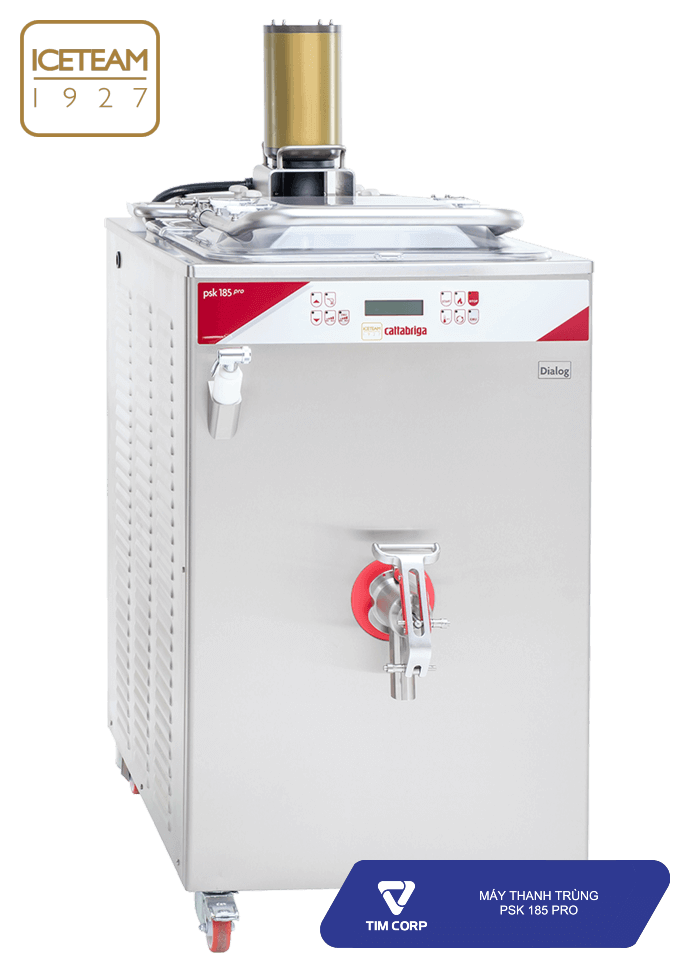 INDUSTRIAL FREEZING EQUIPMENT
Founded in 1980, Afinox has been an Italian and international specialist in the design and manufacture of high-tech equipment for the Horeca industry.
Following the development trend, the Company has become a supplier of food refrigeration equipment such as: refrigerators, display cabinets, cold tables, pizza preparation counters… In addition, Afinox provides customers with complete line for food preparation and presentation.
The high quality of the equipment and services is what makes the company proud of its many excellent certificates and certifications.
Continuous research and innovation, combined with the vital support of an extensive network of dealers and collaborators, allows Afinox products to be found in kitchens and laboratories around the world.
A quick freezer is a very quick way to reduce the temperature of food.
When food freezes, the water inside crystallizes into ice. The longer the freezing process, the larger the ice crystals.
Large ice crystals damage materials by causing phenomena such as cell breakage, affecting the quality and taste of food.
Rapid freezing causes very small crystals to form, causing less damage and preserving food with higher quality. Even more useful, once food is "frozen", it can be moved into a regular freezer for longer storage – as long as it is cold enough for the food to be frozen.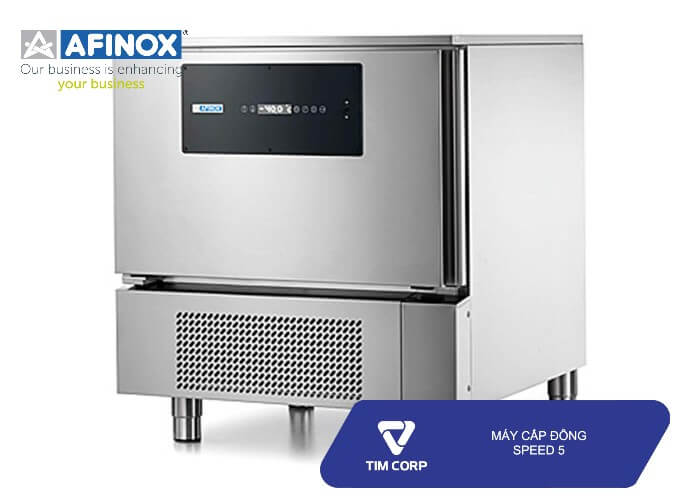 | | |
| --- | --- |
| | |
| | LED touch screen (5 languages ​​choice) |
| | |
| | |
| | 10 (Kg) |
| | 5 |
| | |
Demolition
Deep cooling
Defrosting SRC

Led light
Removable filter element
Ozonier
Wheeled
| | |
| --- | --- |
| | |
| | LED touch screen (5 languages ​​choice) |
| | |
| | |
| | 10 (Kg) |
| | 5 |
| | |
Demolition
Deep cooling
Defrosting SRC

Led light
Removable filter element
Ozonier
Wheeled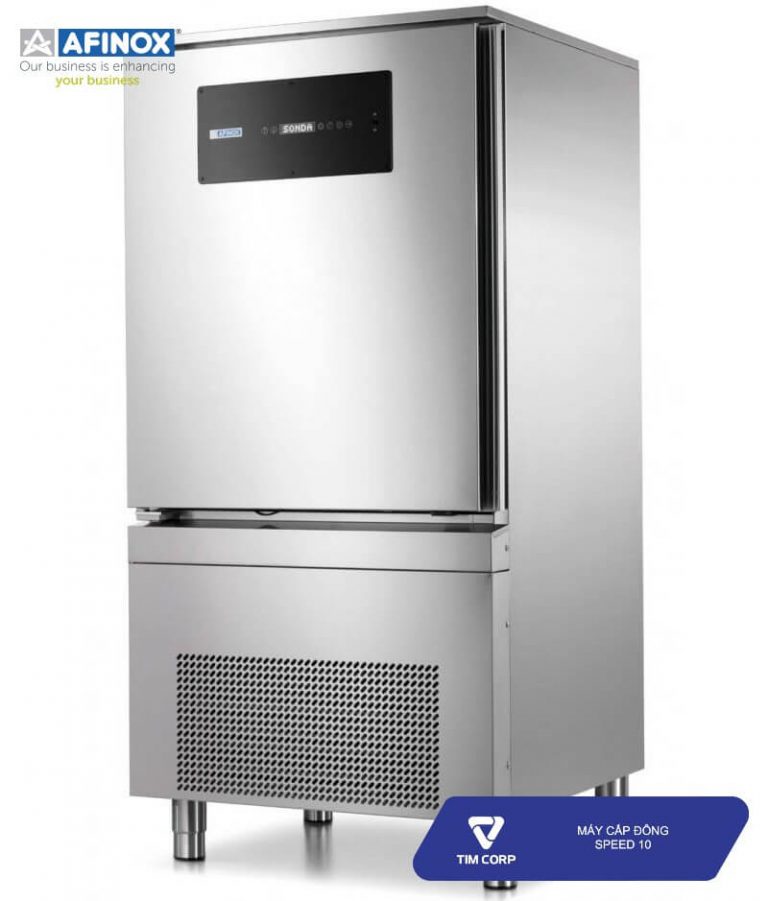 ISA was established in Umbria, the heart of Italy.
Since 1963 ISA manufactures and supplies refrigerators and public furniture, display cases and refrigerators for ice cream and pastries and professional furniture.
ISA operates in the market through four brands: ISA, COF, TASSELLI and HIZONE.
In addition to many prestigious customers and daily use of ISA equipment, the company has cooperated for many years with important international brands such as: Ahold, Auchan, Autogrill, Billa…
After completing the steps from the ice cream machine, the finished product needs to be placed in the ice cream display cabinets to preserve at the ideal temperature and help customers easily choose the ice cream they like. so that ice cream workers can easily manipulate.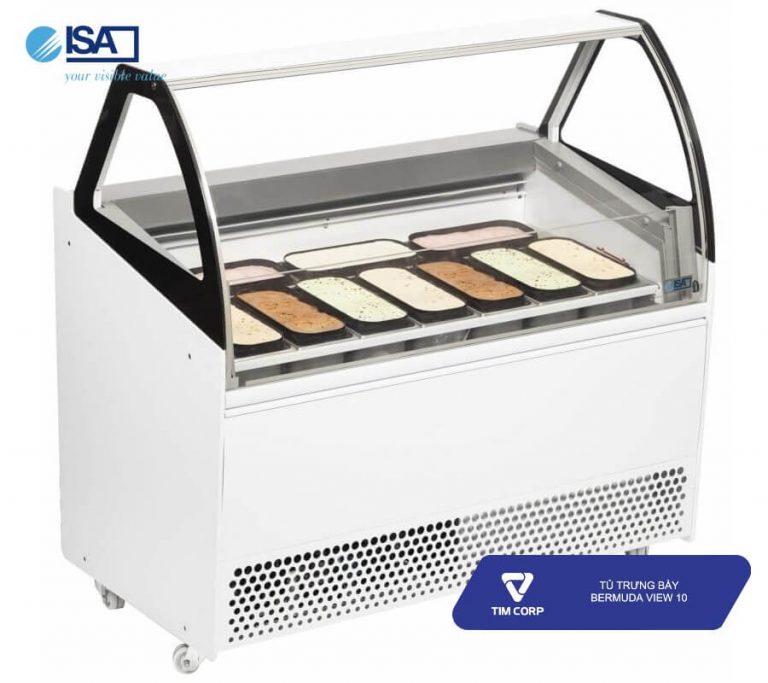 Display case BERMUDA VIEW 10
| | |
| --- | --- |
| | |
| | |
| | |
| | |
| | 10 tray (360 x 165 x 120 h) |
| Number of trays in the storage cabinet | 4 tray (360 x 165 x 120 h) |
| | |
| | |
Display case BERMUDA LX 10
| | |
| --- | --- |
| | |
| | |
| | |
| | |
| | 10 tray (360 x 165 x 120 h) 14 tray (260 x 157 x 170 h) |
| Number of trays in the storage cabinet | 4 + (4) tray (360 x 165 x 120 h) 6 tray (260 x 157 x 170 h) |
| | |
| | |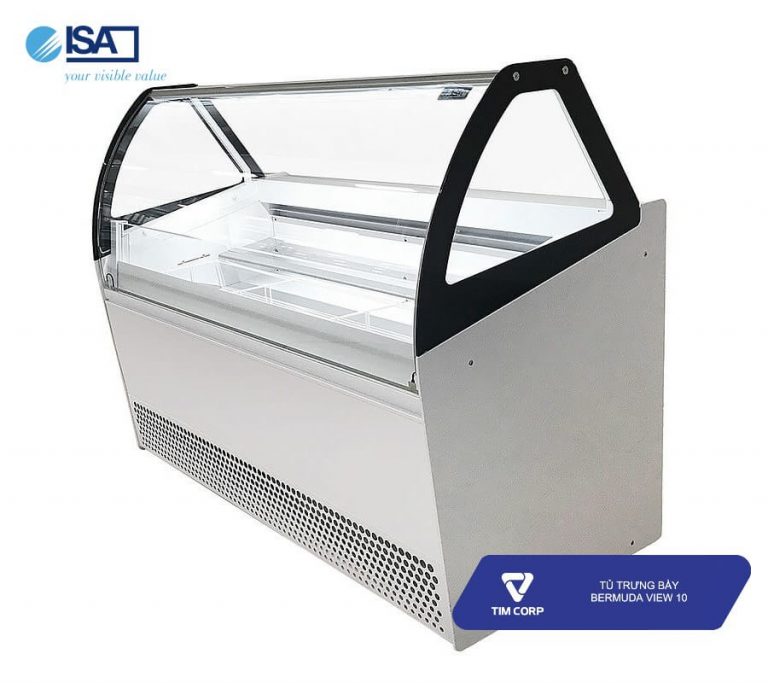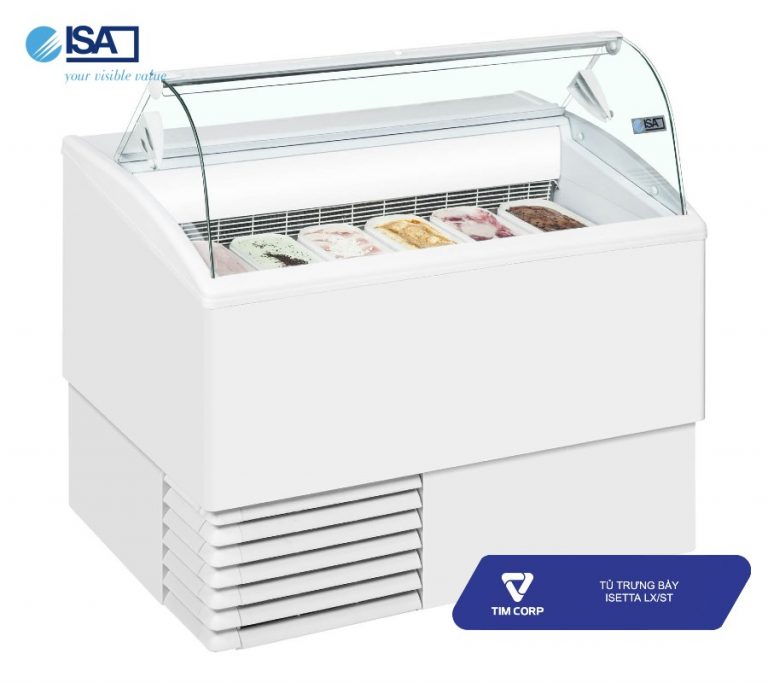 Display case ISETTA LX/ST
| | |
| --- | --- |
| | |
| | |
| | |
| | |
| | 10 (Tray 4,75 L: 260 x 157 x 170 h) 6 + (6) (Tray 5 L: 360 x 165 x 120 h) |
| Number of trays in the storage cabinet | 6 (Tray 4,75 L: 260 x 157 x 170 h) 4 + (4) (Tray 5 Lt: 360 x 165 x 120 h) |
| | |
| | |
Characteristics:
Metro display cabinets are ideal for displaying and selling products such as cakes, cakes, chocolate, food and beverage.
Sealed partitions, avoid spreading odors between shelves.
Insulation panels help keep the temperature stable and drain the power supply.
Has LED lighting.
The cabinet is equipped with wheels and car brakes.
The inside of the cabinet has a drainage hole to prevent odor pollution inside the cabinet.
| | |
| --- | --- |
| | H 117, 2 levels | 105,8/410 L H 135, 3 levels | 264,6/501,1 L |
| | |
| | |
| | |
| | H 117, 2 levels | 1000 x 833 x 1170/1216 (mm) H 135, 3 levels | 1000 x 833 x 1350/1397 (mm) |
| | H 117, 2 levels | 200 Kg H 135, 3 levels | 210 Kg |